For the launch of DJI's new Mavic 2, we were approached to create a series of CG and VFX segments for their Mavic 2 launch video, which included the design and production of sci-fi future themed environments, robots and spacecraft.
Below is a Reel of the work we produced for DJI's Launch Video 'Introducing the DJI Mavic 2'.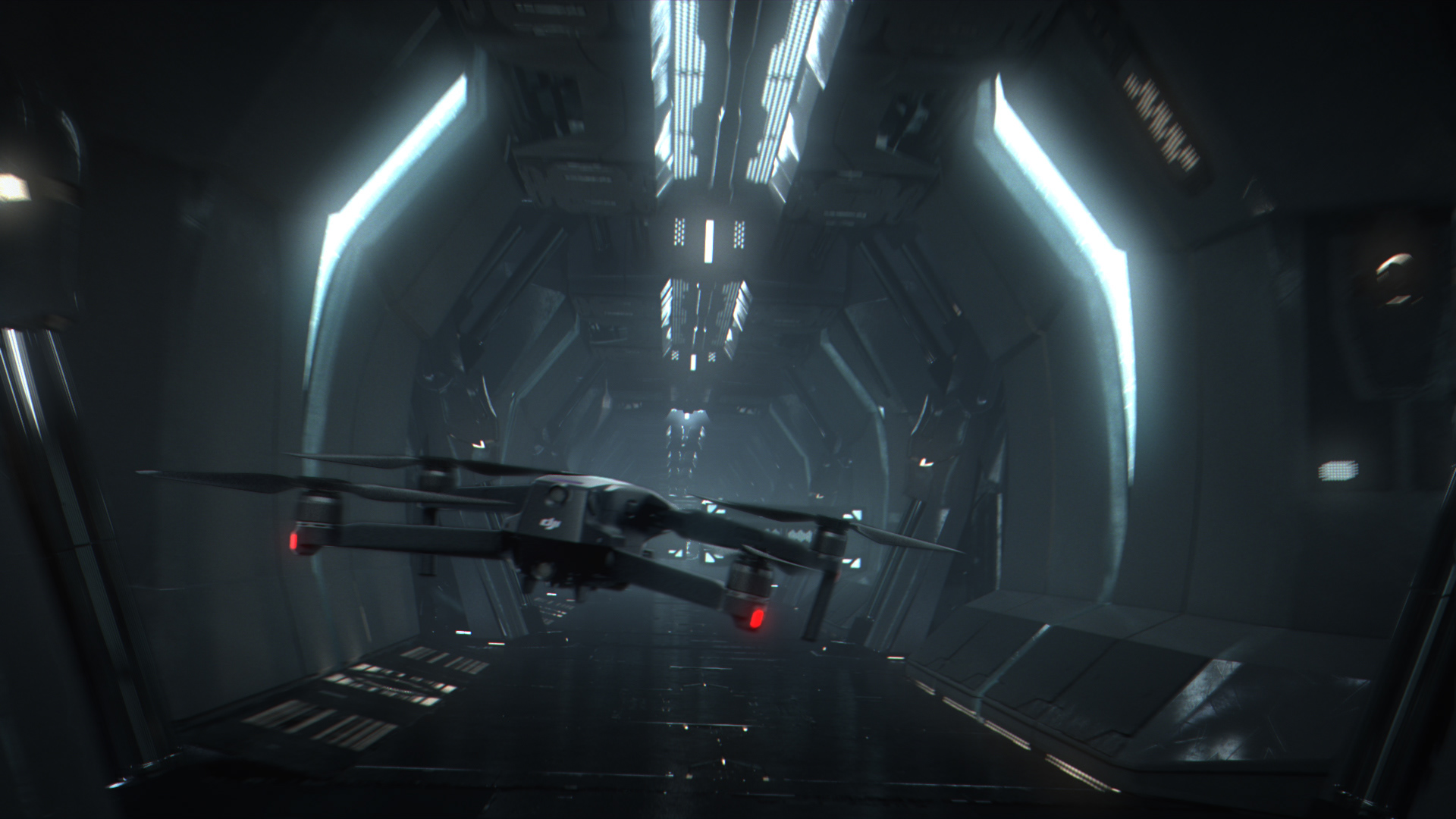 Mavic 2 Drone Asset Development
Concept Development - Corridor
We developed several concepts for the Corridor and Laboratory, drawing from many references as we developed the theme and locked down the look. 
Starting with 2 different concepts, the intention was to establish what kind of approach we would take in terms of proportions and style.  We kept both designs quite minimalist and featureless.
For Concept 01 we'd gone for a more classical 'future-human' technology look.
Focused, claustrophobic, the laboratory doors are smoke white. These future-humans have come back to our time, bringing with them new technology we've never seen before.
Concept 02 has more of an alien, omnipresent, cathedral feel. Using clean lines, it plays heavily on massive simple shapes and volumetric fog. 
Concept Development - Laboratory
With Concept 01 ( image left) selected, we began with a rough blocking first pass for the Laboratory. We used this to help establish the proportions and style, which allowed us to move forward to a more developed and specific design.
Approved Laboratory Design
Concept Development - Robot Arms
We began with different design approaches for the overall style of the robotic arms.

The Design below was chosen for further development. 
Approved Robot Design Development
We took the initial blocking and evolved the design further.
Concept Development - Spacecraft
We played around with a simple bean shape as a starting point and tried to develop it into a more complex but still monolithic shape. 
CG/VFX provided by: SuperBlimp
Art Directors:

Antonio Milo, Fabrizio Fioretti
Executive Producer:

Tom Ireson
CG Leads:

Antonio Milo, Fabrizio Fioretti
VFX/CG Artists:

Francesco Buttarelli, Nunzio Bitetti, Iskander Mellakh, David Rencsenyi
3D Animators:

 Super Splines Studios (Aron Durkin, Matt Morris, Nicolai Marcher)
Compositors:

Antonio Milo, Fabrizio Fioretti, Nunzio Bitetti